A success. This was the first edition of SCAMP, the first festival in Spain for fans of American motoring and lifestyle, held last Saturday at the Autocine in Madrid and organized by Beardburys, the male cosmetics firm from Leon. With the sold out sign, attendees enjoyed more than 80 classic vehicles, an exhibition of 20 motorcycles, American food trucks, a mechanical bull, a Ferris wheel and four live rock bands throughout the day. And, of course, Richard Rawlings, the TV star leader of Gas Monkey Garage, who was the protagonist: from tattooing 'SCAMP' with those present, awarding prizes to the winners of the raffles, signing limited editions of Gas Monkey Garage & Beardburys and, of course presenting the first car that he customizes for Spain.
THE 1967 MUSTANG, THE HIGHLIGHT OF THE DAY
Richard Rawlings presented the jewel of the festival: the 1967 Mustang remodeled by himself and his team at his Gas Monkey Garage in Dallas (Texas) for Beardburys. Richard himself explained the transformation of the vehicle to the jubilation of the audience.
The event was undoubtedly the undisputed plan for Father's Day, with more than 12 hours of uninterrupted experiences in the purest American style with Mad Martin, The Hot Tubes, Lucky Dados and Border Caballero, the groups in charge of providing the soundtrack for the festival.
The barber show area of the Leonese company was the other highlight of the day.  Those present were able to try a wide variety of Beardburys products for all types of beards, and it was in this same space where Richard Rawlings left an indelible mark: his signature on the limited edition can that the attendees purchased.
In addition, Beardburys at SCAMP collaborated with the CRIS Against Cancer Foundation, where all proceeds from merchandising and raffles were donated to the foundation. The tattoo stand, the beer tasting, the food contests, the views offered by the Ferris wheel, the mechanical bull or the Route 66 raffle were the experiences that completed the undisputed plan for Father's Day.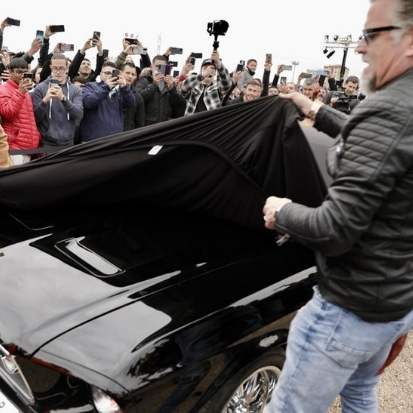 BEARDBURYS, FIVE YEARS MARKING A WAY OF LIFE
The success of the first edition of SCAMP coincides with Beardburys' fifth anniversary. The brand launched the limited edition together with Gas Monkey Garage to celebrate its first five years of life. The two brands share a style and way of life with a rogue philosophy, adventurous but without losing the taste for the classic.
The four limited editions are now available on the Beardburys website. In addition, they can also be found in more than 500 barbershops throughout Spain, in all El Corte Inglés stores and on Amazon.
You may also be interested in