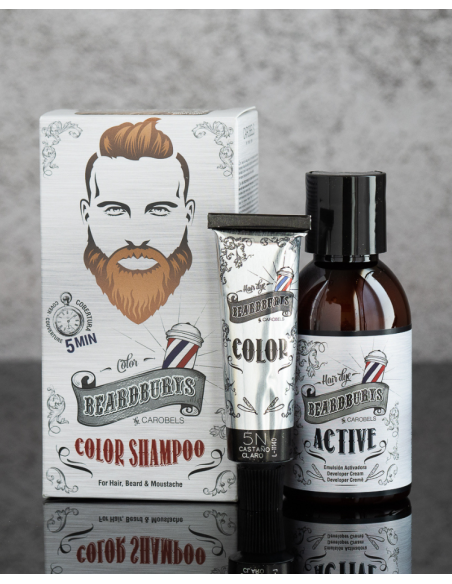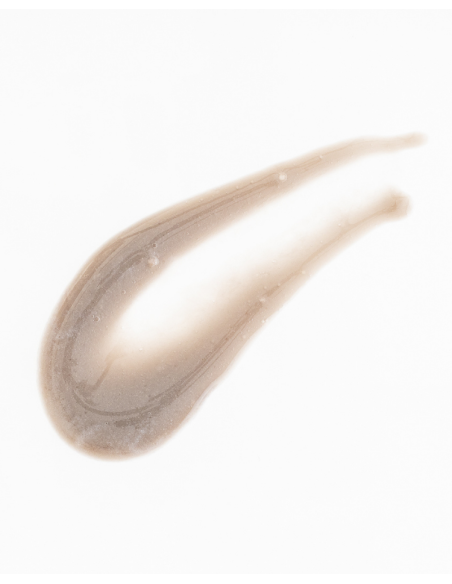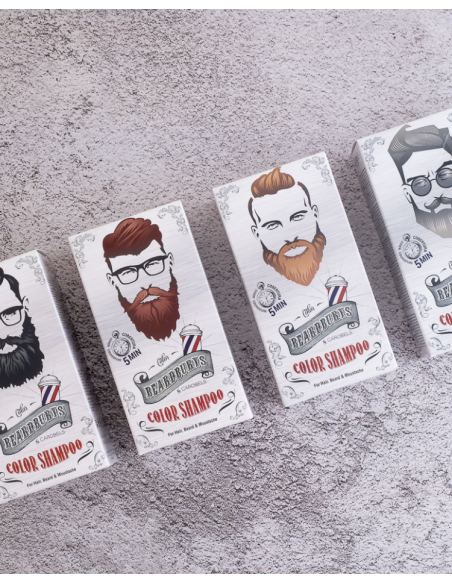 Semi-permanent coloration with adjustable coverage in applicable shampoo format in hair, beard and mustache. Fixed in just 5 minutes with a natural finish (intense finish with 10 minutes of exposure). No root effect as it is disappearing progressively with the washes. Formula free of ammonia and parabens.
Easy application Soft perfume
Gentle formula without ammonia or parabens.
Covers in only 5 minutes.
Adjustable coverage depending on exposure time.
No root effect: disappears progressively with washing.
Shampoo format: easy application and no need for subsequent washing.
87% natural ingredients.
PREPARATION
Pour the Color into the Activator bottle. Close and shake vigorously.
APPLICATION
Apply to the hair from the roots using gloves.
Distribute evenly using a comb. Exposure time: 5 minutes for subtle coverage or 10 minutes for intense coverage.
After exposure time has elapsed, wet hair with water and emulsify. The mixture works like a shampoo.
Rinse thoroughly with plenty of water.
TAKE CARE OF YOUR HAIR, TAKE CARE OF YOUR COLOR
Hair coloring has an impact on the hair structure and scalp. This is why it is important to use a shampoo with a mild formula, suitable for sensitive scalps. Beardburys Daily shampoo by Beardburys, for frequent use, has a formula free of sulfates and parabens, rich in vitamin E with antioxidant action that helps to improve hair health. It contains thyme that purifies and deep cleanses.
For gray or white hair it is advisable to alternate with the use of a specific shampoo that includes pigments to shade the tone and oils to soften the hair, such as Grey Shampoo.
AN IMMOVABLE STYLE
Healthy, strong hair, irresistible color? The final touch will be the finishing touch to your look. Beardburys waxes, pomades and sprays are suitable for all techniques and styles.
And if you're looking to cover the first gray hair while adding hold and shine to your hairstyle, the color waxes - Black or Brown - will be your allies. Your best-kept secret.
INNOVATIVE TOOLS
We are committed to innovation at every stage of coloring. Discover our i-cape- cape with a window so that your clients can read or consult their cell phone during technical work, the Tonology Comb applicator comb for quick and easy coloring application, or the disposable covers to protect the temples of your clients' glasses.
Innovative tools for better service.

Customers who bought this product also bought: