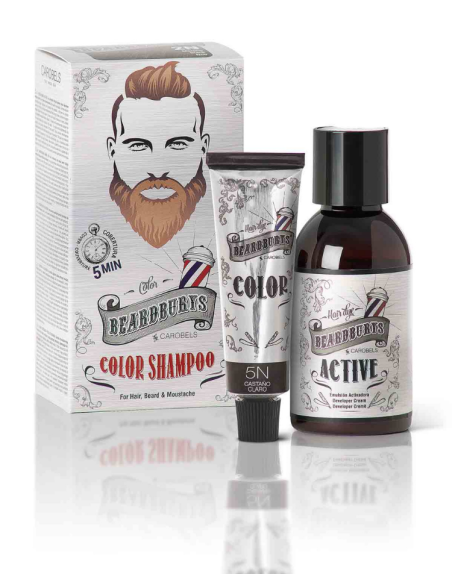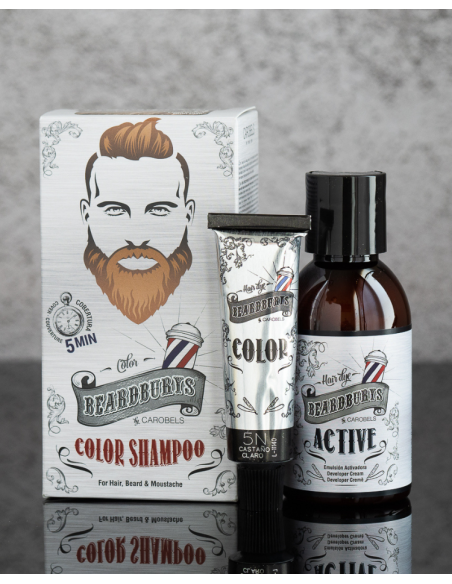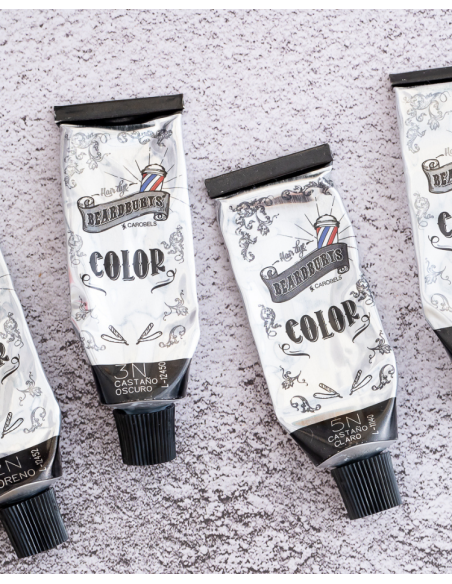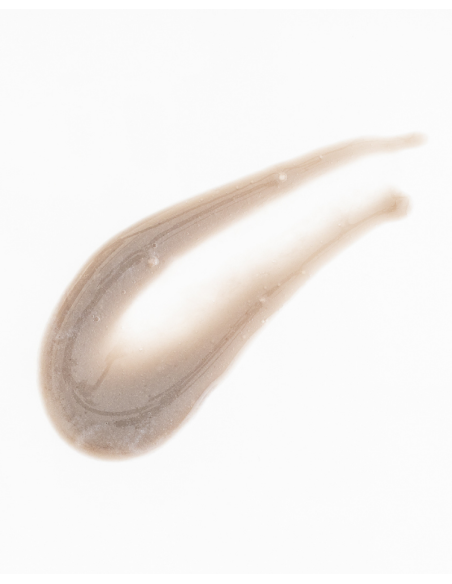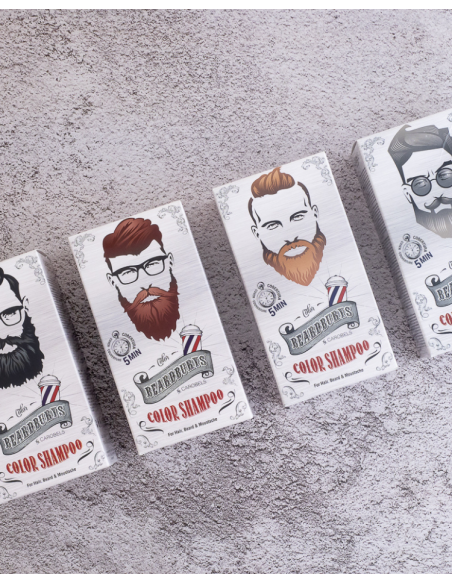 Color Shampoo - Light Brown
Semi-permanent coloration with adjustable coverage in applicable shampoo format in hair, beard and mustache. Fixed in just 5 minutes with a natural finish (intense finish with 10 minutes of exposure). No root effect as it is disappearing progressively with the washes. Formula free of ammonia and parabens.
Easy application Soft perfume
The semi-permanent hair color with adjustable coverage in shampoo format by Beardburys is an innovative and versatile solution for quickly and effectively covering grays. This revolutionary product can be applied to both hair and facial hair, providing complete and natural coverage within minutes. Its unique formula allows for adjusting the color intensity according to individual preferences, ensuring a natural and fresh look.
One of the main advantages of this hair color is its speed and ease of use. In just 5 minutes, grays are perfectly covered, offering a natural finish that securely adheres to the hair. For those seeking a more intense outcome, leaving the product on for 10 minutes achieves a vibrant and long-lasting color.
In addition to its effectiveness and versatility, this semi-permanent hair color stands out for its gradual fading effect as the hair is washed. The color gradually fades away, avoiding the annoying root effect that occurs with other hair dyes. This provides a natural appearance without abrupt contrasts between natural and dyed hair.
The formula of this hair color is completely free from ammonia and parabens, making it a safe and skin-friendly option. Its easy application simplifies the process, and its mild fragrance creates a pleasant experience during use.
To ensure optimal results in small areas like the beard and mustache, it is recommended to use a tint brush for even product application. Additionally, for the first wash, drying the hair or beard with a dark-colored barber towel is advised to prevent stains on clothing or skin.
Each container contains 50 grams of the product, more than sufficient for multiple applications. With this semi-permanent hair color, achieving a gray-free hair and beard has never been so easy and convenient. Transform your look quickly and safely with this innovative product, enjoying a natural and long-lasting color within minutes.
Gentle formula without ammonia or parabens.
Covers in only 5 minutes.
Adjustable coverage depending on exposure time.
No root effect: disappears progressively with washing.
Shampoo format: easy application and no need for subsequent washing.
87% natural ingredients.
PREPARATION
Pour the Color into the Activator bottle. Close and shake vigorously.
APPLICATION
Apply to the hair from the roots using gloves.
Distribute evenly using a comb. Exposure time: 5 minutes for subtle coverage or 10 minutes for intense coverage.
After exposure time has elapsed, wet hair with water and emulsify. The mixture works like a shampoo.
Rinse thoroughly with plenty of water.
TAKE CARE OF YOUR HAIR, TAKE CARE OF YOUR COLOR
Hair coloring has an impact on the hair structure and scalp. This is why it is important to use a shampoo with a mild formula, suitable for sensitive scalps. Beardburys Daily shampoo by Beardburys, for frequent use, has a formula free of sulfates and parabens, rich in vitamin E with antioxidant action that helps to improve hair health. It contains thyme that purifies and deep cleanses.
For gray or white hair it is advisable to alternate with the use of a specific shampoo that includes pigments to shade the tone and oils to soften the hair, such as Grey Shampoo.
AN IMMOVABLE STYLE
Healthy, strong hair, irresistible color? The final touch will be the finishing touch to your look. Beardburys waxes, pomades and sprays are suitable for all techniques and styles.
And if you're looking to cover the first gray hair while adding hold and shine to your hairstyle, the color waxes - Black or Brown - will be your allies. Your best-kept secret.
INNOVATIVE TOOLS
We are committed to innovation at every stage of coloring. Discover our i-cape- cape with a window so that your clients can read or consult their cell phone during technical work, the Tonology Comb applicator comb for quick and easy coloring application, or the disposable covers to protect the temples of your clients' glasses.
Innovative tools for better service.
Customers who bought this product also bought: