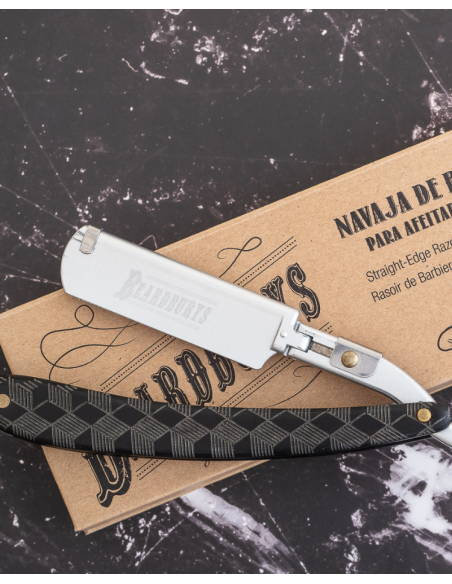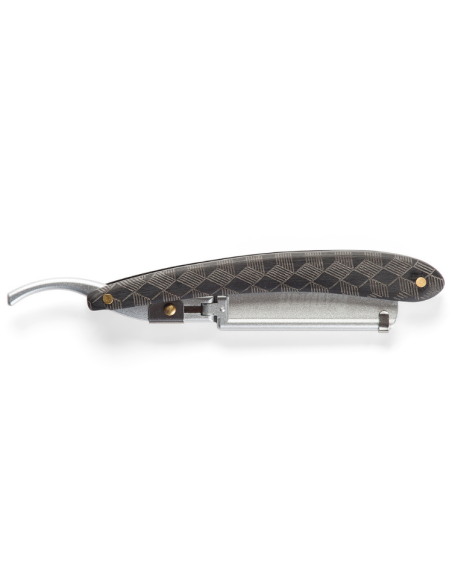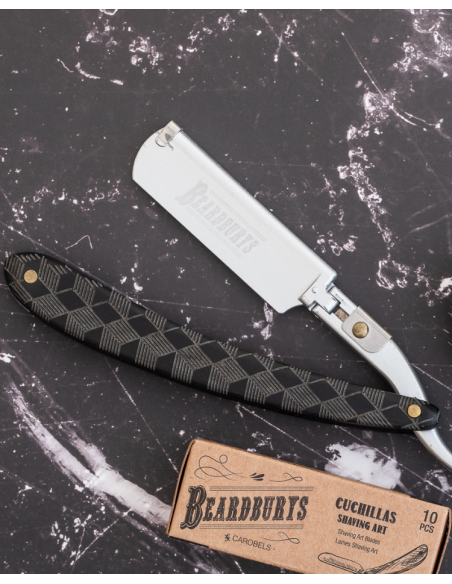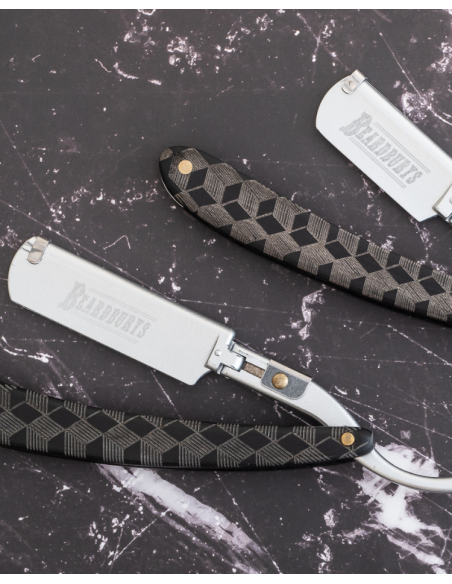 Beardburys Master Double XXL handmade razor has a long-edge blade, perfect for working with fewer strokes. Its double blade for blades makes it easier to use and makes better use of razor blades. Its wooden handle and premium metal alloy blade feature curved lines that contrast with the polygonal motifs that decorate its handle. Available with black handle.
Razor size: 17.5 x 3.6cm.
Blade size: 6.2 x 1cm.
Before using the knife for each cut, it is necessary to sharpen the blade with the appropriate sharpener.
Open the knife until the handle is vertical and the blade is horizontal.
With the blade parallel to the face, hold the knife with the thumb underneath, the index finger on top and the ring finger on the other side of the handle.
For best results, first shave from top to bottom in the direction of the hair, then shave a second time from bottom to top in the opposite direction to the direction of the hair.
After use, wash and dry it for good maintenance.
In addition to the Deluxe Barber Razor, in the Beardburys line by Carobels you will find other accessories and tools for professional men's beauty and grooming:
With the Profiling Emulsion, you will be able to shave with precision, smoothness and more ease due to its transparent condition that allows you to see the area to be worked on.
With Beardburys Beard Serum, rich in essential and vegetable oils, you will moisturize the hair, giving a soft finish to the beard and mustache.
If you want to outline and define the cut, the Tattoo Razor Pen, a stainless steel blade for contouring and outlining head hair, beard, mustache and sideburns, is the perfect tool. And if you combine it with the Beard Comb, you can shape the neck and cheek area for a professional finish.
To protect the client's eyes during shaving, the Barber Mask, made of cellulose, is the perfect complement.
It is important to prepare and moisturize the face beforehand to open the skin pores and make shaving more effective, easier and avoid irritation. Beardburys Anti-Irritation Shaving Cream is ideal for razor use. If you also want a post-shave treatment and care, the Regenerating After Shave Balm is the perfect ally to refresh, soothe and regenerate the skin.
In addition to the Master Double barber razor, Beardburys has in its line other razors for shaving:
The Deluxe Barber Razor, with a wooden handle and protective case, lightweight and ergonomic.
The Shaving Art Razor, handcrafted with a wooden handle with angular finishes and a long blade made of a premium metal alloy.
The Master Double Razor, with a blade for short blades that makes it more manageable.
The Inox Safe barber's razor, with a stainless steel handle.
The Eco Safety barber's razor, with a plastic handle.