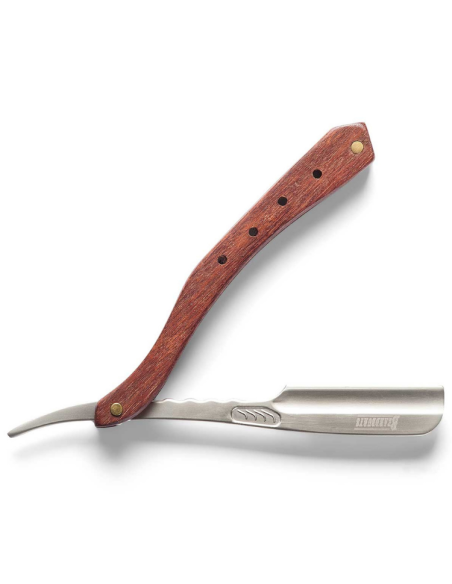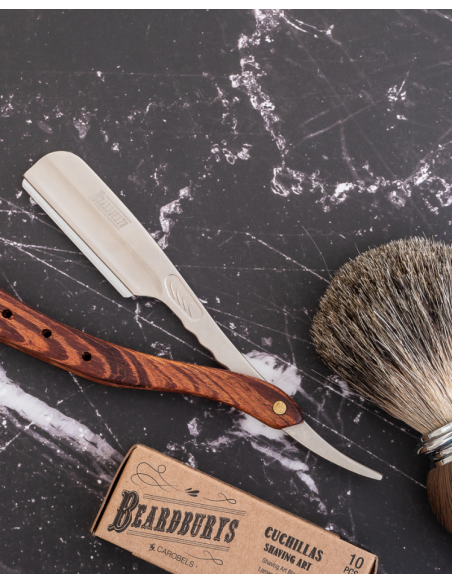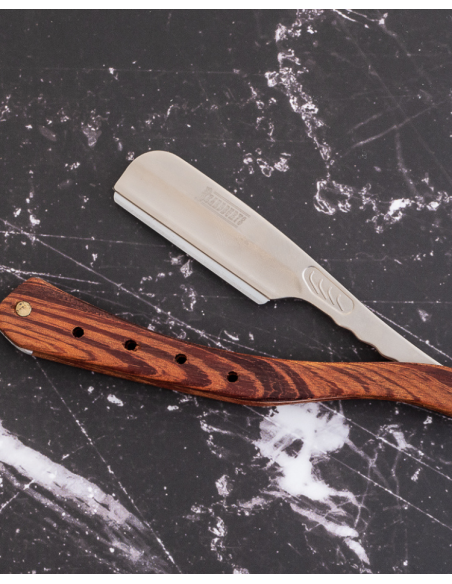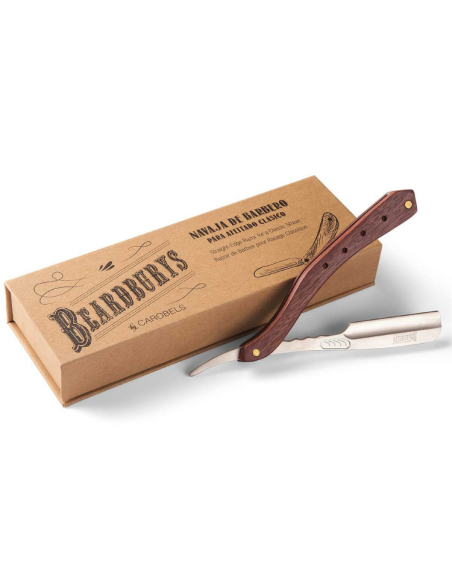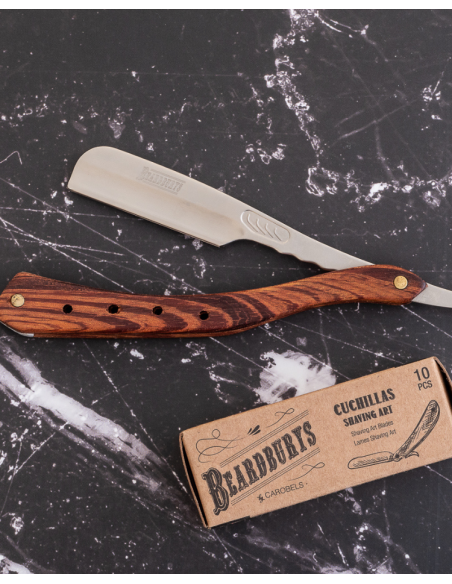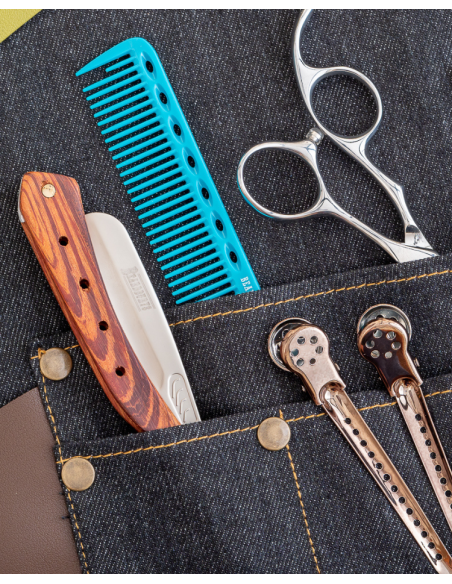 The Beardburys Shaving Art barber's razor has been handcrafted with a wooden handle with an angular finish and a long blade made of a premium metal alloy. An elegant and very functional tool for the classic shaving technique. The Shaving Art razor is compatible with Feather® razor blades. Get an extreme shave.
Razor size: 16 x 3.2cm.
Blade size: 5 x 0.8cm.
Antes de usar la navaja en cada corte, es necesario un afinado de la cuchilla con el afilador adecuado.
Abrir la navaja hasta que el mango quede en posición vertical y la cuchilla en horizontal.
Con la hoja paralela a la cara, coger la navaja con el dedo pulgar por debajo, el dedo índice por encima y el anular al otro lado del mango.
Para un resultado óptimo, hacer un primer afeitado de arriba abajo en dirección al vello, y posteriormente un segundo afeitado de abajo a arriba en sentido contrario a la dirección del pelo.
Tras su uso, lavarla y secarla para el buen mantenimiento.
Además de la Navaja de barbero Deluxe, en la línea Beardburys de Carobels encontrarás otros accesorios y herramientas para la belleza y cuidado masculino profesional:
Con la Emulsión Perfiladora, podrás rasurar con precisión, suavidad y más facilidad por su condición transparente que te permite ver el área a trabajar.
Con el Serúm para barba, Beardburys, rico en aceites esenciales y vegetales, aportarás hidratación al cabello dando un acabado de suavidad a la barba y bigote.
Si lo que deseas es perfilar y definir el corte, la Tattoo Razor Pen, una cuchilla de acero inoxidable para contornear y delinear el vello de la cabeza, barba, bigote y patillas es la herramienta perfecta. Y si lo combinas con el Peine para barba, podrás darle forma en la zona del cuello y mejilla para un acabado profesional.
Para proteger los ojos del cliente durante el rasurado la Máscara de Barbero, hecha de celulosa es el complemento perfecto.
Es importante preparar e hidratar la cara con anterioridad para que los poros de la piel se abran y el afeitado sea más efectivo, fácil y evitando la irritación. La Crema de Afeitado Anti-irritación, de Beardburys, es ideal para el uso de navaja. Si además quieres un tratamiento y cuidado post-afeitado, el After Shave-Bálsamo Regenerante, es el aliado perfecto para dar frescor, calmar y regenerar la piel.
Además de la Navaja de barbero Shaving Art, Beardburys tiene en su línea otras dos navajas para el afeitado:
La Navaja de barbero Deluxe, con mango de madera y estuche protector, ligera y ergonómica.
La Navaja Master Double, con una hoja para cuchillas cortas que la hace más manejables.
La Navaja Master Double XXL, con una hoja de filo largo perfecta para un trabajo con menos pasadas.
La Navaja de barbero Inox Safe, con mango de acero inoxidable.
La Navaja de barbero Eco Safety, con mango de plástico.

Customers who bought this product also bought: