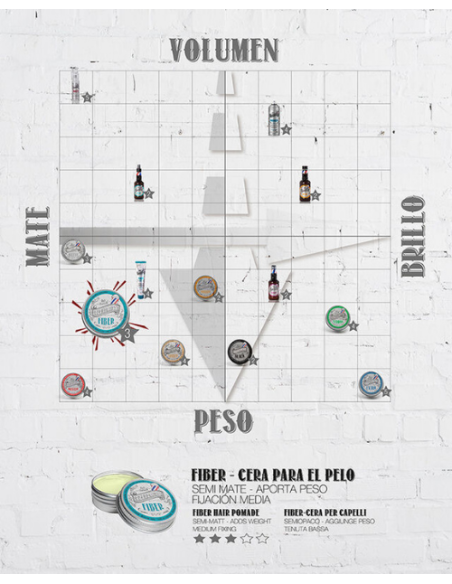 Fixation

Fuerte

Finish

Matt

Products

Waxes
The Beardburys line of waxes and pomades, designed for the best bibs, is ideal for Barber Shops, covering all the needs of the barber and the client.
- Styling definition
- Easy to shape
- Great hold
- Hair care, allowing the scalp to breathe
- Styling with movement, avoiding a stiff effect
Hair waxes are the perfect product to give texture and define a hairstyle. Although it is ideal for short hair, it can also be applied to medium length hair.
Beardburys range of waxes and pomades adapt to the most demanding techniques to create the latest men's styles and trends with great versatility.
1. Take a small amount of hair wax with your fingers, and work it in with your fingers until it warms up.
2. Apply the wax evenly to dry hair until the desired hairstyle is defined. You can draw the strands between your fingers or, if you want more definition, use a comb.
3. If you need more hair wax to achieve the desired hairstyle, repeat the process. It is always better to apply twice, in small amounts, than a large dose all at once.
Wash hair thoroughly at the end of the day:
For a refreshing effect, achieving shiny and moisturised hair, use 

Fresh Shampoo

.
If you want to achieve greater density by slowing down hair loss, 

Densify Shampoo

 activates and oxygenates the scalp.
If your hair is white or grey, 

Grey Shampoo

 provides moisture and silkiness.
For daily hair washing, Daily Shampoo, free of sulphates and parabens, takes maximum care of your scalp.
Select your hair wax according to:
Your hair type, density and thickness.

The degree of hold you want, from an extreme hold to an almost imperceptible hold.

What you want to use it for: styling, texturising or control.
Select the hair wax that best suits you depending on your hair type.
Matte: Recommended for people who want a more natural, casual, less elegant look, even with an exotic touch.
Shine: Ideal for a more sophisticated, elegant and traditional hairstyle.

Customers who bought this product also bought: