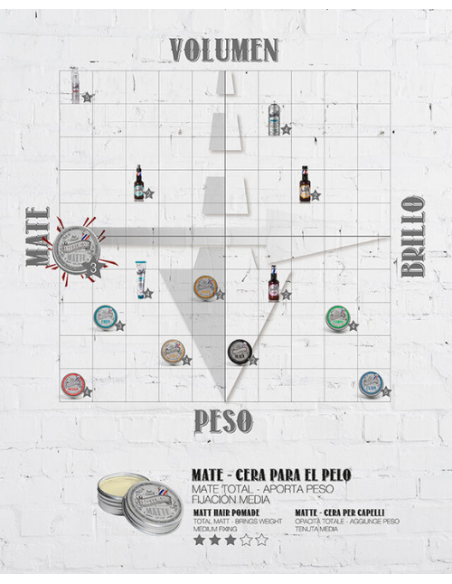 Genuine barber shop hair wax, no shine for a more natural matte finish. Medium hold for control without losing flexibility. Easily removed with water. Leaves no residue.
Hold 3/5
Shine 0/5
Hair waxes are the perfect product for adding texture and defining a hairstyle.
FEATURES
Matte finish, without shine.
Adds volume to the hairstyle.
Hairstyles with a natural finish and relaxed style.
BENEFITS
Medium hold, providing flexible hair support.
Easy to shape. You can achieve well-defined hairstyles with a natural movement.
Easy to wash out with water and leaves no residue in the hair.
Fixation

Media

Finish

Matt

Products

Waxes
1. Take a small amount of wax with your fingers. It is important to take a small amount as it is formulated with a concentration of Kaolin, which is the clay that gives the matte effect and an excess could give an unwanted look.
2.Rub it between the palms of your hands to warm it up and apply it evenly on the hairstyle starting from the crown area and leaving the bangs for the end.
3. Apply to dry hair.
4. If you need more wax to achieve the desired style, repeat the process. It is always better to apply twice, in small amounts, than a large dose all at once.
Select your hair wax according to:
Your hair type, density and thickness.

The degree of hold you want, from an extreme hold to an almost imperceptible hold.

What you want to use it for: styling, texturising or control.
Customers who bought this product also bought: