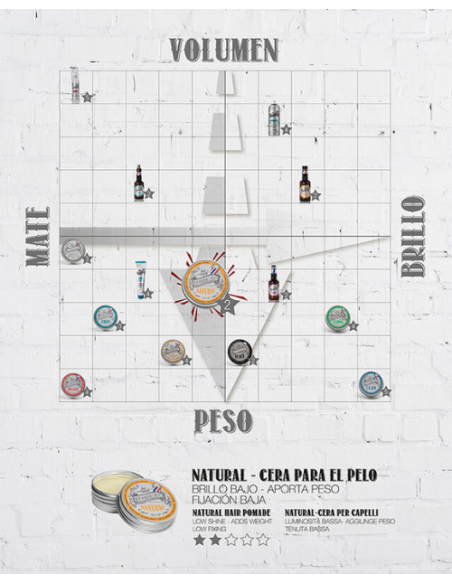 The ideal pomade for styling your hair and giving it a light sheen. Natural effect with medium hold that allows for movement. Easily removed by washing with water. Leaves no traces of product.
Fixation 3/5
Shine 2/5
Hair waxes are the perfect product for adding texture and defining a hairstyle.
FEATURES
Semi-matte finish, leaving a slight shine effect on the hair.
Adds volume to the hairstyle.
BENEFITS
Medium hold for the hairstyle, for a relaxed style.
Easy to shape.
Hairstyles with a natural finish and a tousled hair effect.
Easy to wash out with water and leaves no residue in the hair.
Fixation

Media

Finish

Natural

Products

Waxes
Wash hair thoroughly at the end of the day:
For a refreshing effect, achieving shiny and moisturised hair, use Fresh Shampoo.
If you want to achieve greater density by slowing down hair loss, Densify Shampoo activates and oxygenates the scalp.
If your hair is white or grey, Grey Shampoo provides moisture and silkiness.
For daily hair washing, Daily Shampoo, free of sulphates and parabens, takes maximum care of your scalp.
Select the hair wax that best suits you depending on your hair type.
Matte: Recommended for people who want a more natural, casual, less elegant look, even with an exotic touch.
 
Shine: Ideal for a more sophisticated, elegant and traditional hairstyle.
Customers who bought this product also bought: